Original from: https: //www.hishine.cc/news/best-application-of-high-mast-led-light.html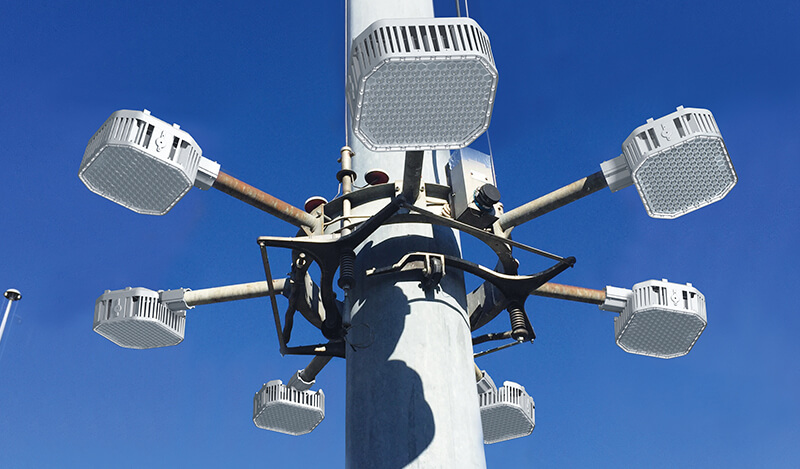 In recent years, society has developed faster and faster. Night lighting has become an indispensable one in daily life. Everyone has higher and higher standards for lighting fixtures. Therefore, lighting fixture products have derived in many types. High mast lights are generally used in larger places such as sports fields, central squares, playgrounds, etc. They have a particularly good effect on creating an atmosphere for night lighting. And it can help to create a safe, comfortable, and relaxing lighting environment that modern people like. High mast lights are also the heaviest lighting system and must have the strength and resistance needed to survive the most challenging outdoor environments. With these features, high mast floodlighting can be becoming the most effective way to illuminate large areas.
The lighting advantages of High Mast Led Light
The high mast flood lamp is a kind of light source with high requirements for large area lighting and strong brightness. The high mast lamp can meet these requirements because of its high visibility, large scale, high road visibility, and large divergence angle. The high mast light is more than 15 meters high with installation height and multiple luminaires configured to provide area and road lighting for pedestrians, cities or vehicles, to minimize ground obstacles and produce uniform lighting in a large area. The pole distance of high mast lights is much wider than that of conventional industrial lamps, which means less visual confusion and improved visibility. The resulting low pole density will produce fewer physical obstacles and improve the safety of use. The installation height that increased allows the use of high-power lighting equipment to provide further lighting, so the led flood lights can be placed far away from traffic areas and high activity spaces. This feature allows more effective use of the lighting area, and also providing more possibilities for the installation of diverse elements and designs.
The range of application
High mast lighting can be endowed with great diversity because it has the ability to provide large-area lighting with the largest pole distances. Many people now use high mast floodlights, and this type of LED lighting can be used in different scenarios. Now with the improvement of production technology, high mast lights are more commonly used. It can be applied to airports, squares, overpasses, park stations, etc. Therefore, it plays a unique role in promoting night traffic and transportation, citizen social and sports/recreation activities, all-weather industrial production, and public facility safety.
1.Stadium & Sports fields
The high mast lamp can provide uniform vertical illumination, the field of view can be extended to the maximum range, and repeated lighting is minimized. In the sports field, if the lighting is too bright, it will affect people's sight. If it is less, it will be unclear. It must consider the area of the sports field, the number and height of the poles of the high-pole lights, and the brightness requirements of the venue. Challenges of various factors, such as light-blocking, light distribution, visual comfort, and TV broadcasting. There are many outdoor sports venues. In addition to the main stadiums, there are many sports fields that need to be used, including track and field, football, tennis, golf, baseball, rugby, basketball, cricket, hockey, horse racing, racing, softball, ice hockey, skiing, Archery, bullfighting. These are relatively common sports, but it does not mean that they are limited to them.
2.Airport apron
The outdoor lighting areas of the airport include apron areas, vehicle parking areas, passenger unloading, and loading areas, sidewalks, roads and runways. The apron is the area where the aircraft loads and unloads cargo and passengers. The high mast can provide efficient and environmentally friendly white light for the apron to help airport staff and passengers load and unload cargo and luggage. The high pole lights can be installed far away from the aircraft parking area, and will not conflict with the aircraft's lifting work and boarding passages, and will not affect the sight of the control tower. For large areas, light uniformity and glare are the most important problems to be solved. The high pole lamp is the lighting product that can most accept this challenge.
3.Freight terminal
Freight terminals are often filled with stacked cargo containers. This requires overhead light sources to provide sufficient vertical illumination and reduce shadows. The high mast lighting system can be placed remotely or used in a narrow space, and will not cause interference or minimal interference to adjacent cargo or loading and unloading equipment. In addition, the high pole lamp has a good treatment of dust-proof, waterproof, shock resistance, mechanical strength, corrosion resistance, and heat dissipation lamp performance, and can have a strong resistance to most environmental factors of the terminal.
4.Roads & Overpasses
High mast lighting can provide complete lighting for roads, intersections, roundabouts and intersections and areas immediately outside the road. This is essential for the safe navigation of the road system. Not only that, LED lights can also be combined with an intelligent control system to automatically adjust the lights at night, which not only saves energy but also provides a safe lighting environment throughout the night. The LED light is composed of multiple modules and drivers. Each light can work independently, and the system has fault reminders, which is very helpful for maintenance work.
5.Parking lot area
The high installation height of the high pole lights helps to reduce shadows between parked vehicles. By using a high mast device, it is possible to provide efficient lighting for a very large parking area while providing the driver with the least interference light. In addition, the high mast flood light with high height can use fewer poles to achieve a wide range of lighting, which reduces the density of poles and reduces the interference to the parking lot to very low.
6.The areas with industrial equipment
Outdoor mining farms, drilling platforms, metallurgical plants, dockyards, wood processing plants, power plants, cement plants and various industrial manufacturing plants can all use high pole lights to provide uniform all-weather lighting.
The featured products
This is a summary of some noteworthy products for your reference. It is not a set in stone, but a constantly updated list. We welcome product suggestions from people who are proud to build compelling value in their products.
High Mast Led Light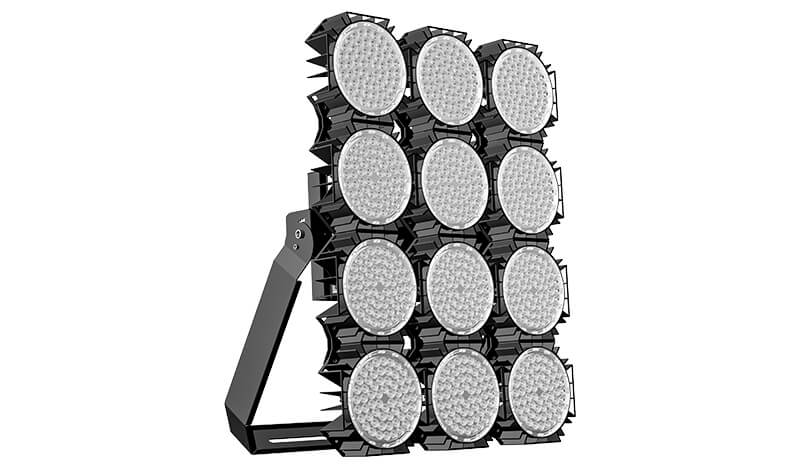 The Hishine high mast light is a sports arena lighting system developed and designed after thorough market research. It aims to provide high-lumens non-glare lighting for various sports fields and TV delay broadcasts so that viewers and athletes can obtain the ultimate visual enjoyment. Since the product was launched, it has won praise from customers in Europe and the United States. The unique hollow design breaks the traditional lamp design and also improves the product's heat dissipation, earthquake resistance, and wind resistance capabilities. The modular design provides a variety of possibilities for future use. You can choose from a variety of wattages, and you can directly replace the HID lamp without changing the pole structure.
Led Stadium Light
With its high-quality engineering design and superheat dissipation performance, Hishine LED Stadium lights continuously improves product performance and energy conservation, and environmental protection standards. Facing the future market, it dares to adopt high-tech SMD7070 lamp chips and a unique and innovative cooling system. Whether it is considering energy-saving, wind resistance, or considering the need to use a TV broadcast, it will be the first choice for your stadium.
Conclusion
The following information are introducing about high mast flood light. Wish it will be helpful for you. Various of Applications can be suitable for taking the flood led lighting. If you want to make a new LED Lighting project or replace the old HID lamps, high mast light will be a best choice.
---
Post time: Oct-17-2020